Enjoy a wonderful summer's evening with family and friends in the Südheide region: it's warm, the late sun casts long shadows, everyone's in the garden and having a great time. No wonder, as the scent of sizzling sausages and steaks wafts through the air – a glass of 'Dröge Plum' ('dry plum') is served as an aperitif. While it might not sound that tempting to outsiders, 'Dröge Plum' is actually the regional expression for an excellent plum brandy, produced in a farm distillery 15 kilometres to the east of Gifhorn – and it's part of a proud tradition. First-class spirits have been distilled there since 1706.
Bread for gourmets for over a hundred years
We've really pushed the boat out: what tastes better with meat from the barbecue than good, homemade bread baked in a wood-fired oven? The fragrant and delicious loaves come from Bäckerei und Konditorei Hacke: baked in a wood-fired oven by this rural speciality bakery founded in Meinersen back in 1903, this bread is one of the 'culinary ambassadors of Lower Saxony'. Its manager, Torsten Hacke, was named one of the 500 best bakers in Germany by gourmet journal 'Der Feinschmecker'. No wonder, as his bread from the nine-tonne steam oven with its thick stone slabs simply tastes very special. It is a point of honour that dough ready-mixes, preservatives and colourants are used just as rarely here as mould prevention agents. They are replaced by a great deal of expertise and a real love of baked goods, from traditional bread rolls to modern sourdough. It's the perfect accompaniment to grilled meat, which is already a crisp brown colour and sizzling on the rack, filling the air with enticing aromas.
Discover the products from the region: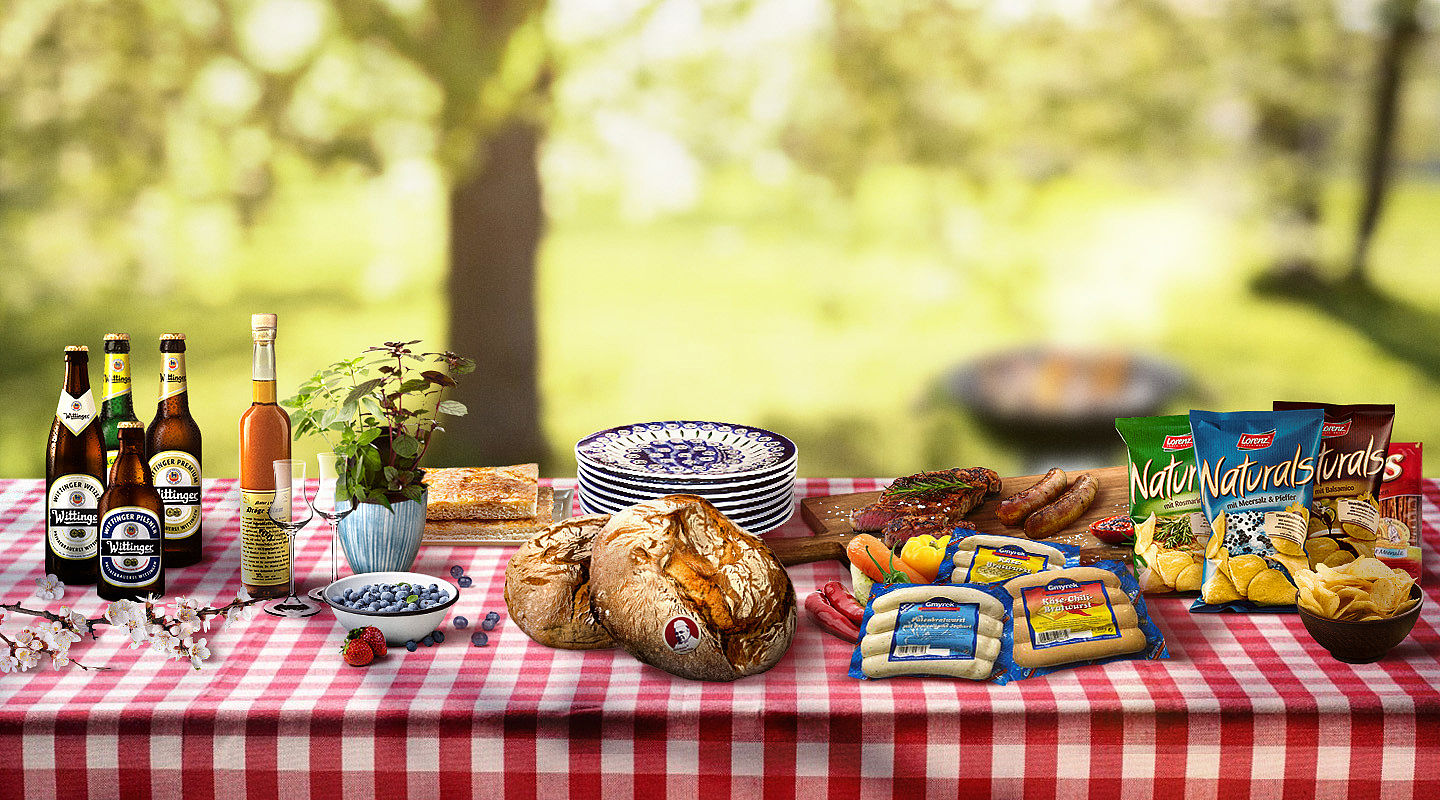 Anything you can do without stays out
We can't do without sirloin and rib-eye steaks, farmer's bratwurst sausages and Silesian garlic sausages at our barbecue party. We get them from Gmyrek Fleisch- und Wurstwaren in Gifhorn. The sausage specialists have stood for guaranteed high-quality meat products of all kinds for over a hundred years – directly from producers in the local region, made according to a traditional recipe and without the questionable addition of 'who knows what'. Long before the organic boom, it was Fleischerei Gmyrek's principle to leave anything out of the recipe that you could do without, such as mechanically separated meat. Christoph Gmyrek, who represents the fourth generation of the family to manage the company and whose goods are also among the 'culinary ambassadors of Lower Saxony', guarantees this.
Speciality beers from one of the world's oldest breweries
While the sun gradually sets and the guests enjoy their sausages and steaks, the food is naturally also washed down with cool beer. Beer from Privatbrauerei Wittingen, one of the oldest breweries in the world. The Wittingen Brewery has been family-run since back in 1429! And that's the way it's going to stay in future, too. Another generation has just successfully taken over leadership of the company. Brothers Christian and Axel Schulz-Hausbrandt stand for high-quality, regional beers that quench the thirst at any garden party in the region, no matter whether the 'Wittinger' is a classic Pilsener, a light and summery Radler or a refreshing Weizen. Their 'Stackmanns Dunkel' is also a 'culinary ambassador of Lower Saxony'.
It's now gone dark. The guests at our garden party have spread out on the surrounding chairs or are standing together in small groups on the lawn and engaged in animated conversation. Time for a bit of dessert. Freshly picked strawberries and blueberries from the farms in the Südheide region are always ripe at the start of the summer – another reason to look forward to the warm months. Some enjoy them with a slice of original, wood-fired oven sugar cake from Bäckerei Hacke. Which, incidentally, is another bona fide regional speciality. The slowly dropping temperature in the wood-fired oven gives the sugar cake its special flavour. Made from a light yeast dough, it's among the most popular cakes in northern Germany. The sugar and spice mix that covers it is a well-kept Hacke family secret – anyone from Gifhorn will immediately recognise the taste!
Regional down to the snacks
The stars are shining high in the sky; it has become pleasantly cool. Anyone who fancies a little snack between drinks and great conversations reaches for the bowls of corn puffs, pretzel sticks and potato crisps. But not just any potato crisps, of course – even when it comes to enjoying snacks, people in Gifhorn pay attention to regional connections and the highest standards. And this is what internationally renowned The Lorenz Snack-World from Hankensbüttel stands for with its quality Crunchips and Saltletts pretzel sticks brands. Its contemporary Naturals crisps are a brand new addition to the product range: they contain no colourants or preservatives and are available in innovative flavours such as Sea Salt & Pepper, Balsamic Vinegar and Parmesan.
Those who consume regional products lead more sustainable lives. In Gifhorn, regional food isn't a fashionable, modern trend but rather a centuries-old tradition. The result is the highest standards with local connections – and this makes any garden party a real celebration!